The Story of How SLAM Was Founded, Told By Those Who Were There | SLAM
This is an excerpt from Cover Story: The NBA and Modern Basketball as Told Through its Most Iconic Magazine Covers, which details the history of iconic sports magazine covers, specifically focused on 1984-2003. It's been reprinted with permission from Triumph Books. Order your copy now.
---
Sports Illustrated took over a decade to figure out a blueprint for what their magazine should look like.
SLAM took one issue.
The magazine would change over time. Their voice would evolve. The magazine cover looks drastically different today. But flip through a present-day issue of SLAM, and it still reads pretty much the same from front to back as the very first issue, which came out almost 30 years ago.
The first issue of SLAM featured short-bit culture stories on Pearl Jam's near-decision to name themselves after Atlanta Hawks guard Mookie Blaylock and basketball's growing popularity in Japan. There's a dunk of the month. There's a one-page feature on high schooler Steve Wojciechowski, along with profiles of college point guard Jason Kidd, perennial NBA All-Star Charles Barkley, and New York–playground legend Joe Hammond. There are full-page photospreads of the latest sneaker releases, and a six-page photo essay on playground hoopers around the country, including a cameo from a 16-year-old Paul Pierce.
This is what SLAM still is today: a magazine celebrating the sport of basketball. A casual voice. An all-encompassing approach of covering high school, college, and the pro game. A magazine highlighting sneakers and athletic apparel. A personality-driven publication. A magazine that didn't tie themselves to the current news cycle.
Founder and publisher Dennis Page established a blueprint for what a modern-day basketball publication could look like from the very beginning.
"We were passionate," he said. "The feel of the magazine was like if you were playing in the playground. That's how people spoke."
Page was inside the Paramount Theater at Madison Square Garden where the 1994 Source Awards was taking place when record label executive and friend Alan Grunblatt tossed out the idea of a magazine merging basketball and hip-hop. He went home that evening and drafted up a table of contents.
A Trenton, New Jersey, native, Page studied broadcasting and film at Boston University and got his first full-time job selling ads for the alt- weekly Boston Phoenix. Page loved magazines. He dreamed of running his own one day. The goal was always Rolling Stone. Page was working for another rock 'n' roll magazine, Circus, in 1980 when Stanley Harris called. Harris was the founder of Harris Publications, a New York–based publisher started in 1977 with a portfolio of special-interest magazines. They had puzzle books and monthly magazines on topics ranging from gardening to guns. Page was offered a job to manage a new guitar magazine. It was a chance to run a magazine even if it wasn't Rolling Stone.
"I didn't know shit about playing guitars," Page said. "But I was good at the advertising and publishing business. So I said yes."
He became the publisher of Guitar World, which arrived on newsstands in 1980 and became the number one guitar magazine. The success of the publication earned him a lot of goodwill with Harris. Page kept searching for the next idea. He convinced Harris to start another magazine in 1987. It was called New York Talk.
"We launched it during a huge snowstorm and couldn't get the issue out to the newsstands," Page recalled. "It was an omen of failure."
The magazine borrowed from the concepts of Village Voice and the East Village Eye and covered the local news along with the New York film, television, and music scene. The newsstand was about taking a successful idea you liked and trying to improve upon it yourself. A lot of these publications failed, including New York Talk, which folded after three years.
Page's new magazine idea, inspired by his conversation with Grunblatt, was more aligned with his interests. He fell in love with basketball in sixth grade watching a high schooler named Lew Alcindor, became a high school and college hoops junkie, watched streetball legends at New York playgrounds, and joined the NBA craze during the era of Julius Erving, Larry Bird, and Magic Johnson.
But he couldn't figure out the table of contents.
"I started by building a hip-hop magazine about basketball," Page explained.
He had the two components in the wrong order.
Another lightbulb moment hit.
It would be a basketball magazine with a hip-hop voice and not the other way around.
It would look like Vibe.
It would read like The Source.
He pitched the idea to Harris, who asked him to get it on newsstands immediately.
Page needed an editor-in-chief. He called Village Voice editor Tom Curtis, who said no, but recommended Time Inc. writer Cory Johnson, a St. Joseph, Michigan, native who studied journalism at NYU and wrote for a bunch of magazines, including Sports Illustrated, People, and TIME.
"Tom told me this guy who makes Guitar World wants to start a new basketball magazine and asked me if I had any ideas for it," Johnson recalled. "I said, 'Abso-fuckng-lute-ly I have ideas.' I was in the thick of learning how magazines were made. It was what I did all day."
A meeting was set at a French bistro restaurant located in the SoHo neighborhood of Manhattan, New York, named Raoul's. Johnson sat down and pitched his vision to Page. He read a lot of Marvel comics growing up and loved how comic book writer Stan Lee would engage readers at the back of every one of them. Lee responded to fan letters and sent no-prizes—an envelope with no contents inside, which became a running joke with the readers—to anyone who wrote to him about continuity errors or typos. Johnson wanted the magazine to start by engaging their readers in the letters section.
"I presented a pretty laid-out plan," he recalled. "There would be short features in the front like New York Magazine's Intelligencer section. There would be one-page profiles like Interview magazine. The features section would be in the style of Vanity Fair. The sections in the back would be devoted to angles around the business of hoops. I wanted the last page of the magazine to be a dunk of the month.
"I wanted it to feel like Surfer magazine. I loved that magazine so much I taught myself to surf. Their ideal was: surfing was not about the celebrities at the top of the pyramid who did it, but instead it was about the everyday experience of the sport. I always thought Sports Illustrated had this pyramid when it came to basketball where they didn't love the game, but instead they loved the heroes of the game. Their editors thought it was all about the stars and not about the game itself. I wanted to flip that approach upside-down. I wanted the magazine to be about the experience we all had playing the game of basketball. Sports Illustrated was only about Michael Jordan. I wanted us to be about the game of basketball."
There was one last thing they needed to figure out together.
A name for the magazine.
The two tossed out every basketball-related term they could think of.
Crossover.
Dribble.
Jam.
None of them felt right.
They finally landed on SLAM.
Johnson was hired and moonlighted as the magazine's editor-in-chief. "I would be fact-checking a murder story for People and I'd get a phone call from Dennis," Johnson said. "I would hop in a taxi, race downtown to approve a layout, then race back. It was like I had moved on to my new girlfriend without telling my existing girlfriend."
Page scrambled to place ads in the magazine. Today, he credits The Source and Vibe for making his job easier back then. Page didn't have to explain what hip-hop was to advertisers. Guitar World art director Susan Conley designed the magazine layout. Johnson assigned stories to people he knew in the industry, including basketball writer and New York–streetball historian Vincent Mallozzi, People reporter Nancy Jo Sales, and Vibe senior editor Bonz Malone. He also wrote a couple of stories himself and attributed them to made-up names in the masthead. "I wanted to make it look like a real magazine since it was just a couple of other guys and myself working on it," Johnson explained. "Russell Shoemaker, the senior editor in the masthead, that's me. Russell was my best friend from church. Shoemaker was my godfather's last name. I just put their names together."
Page cringes at some of the stories today, especially a SLAM NBA All-White Team feature where the magazine interviewed white players around the league and nominated Chris Mullin, Dan Majerle, Detlef Schrempf, Tom Gugliotta, John Stockton, and Rony Seikaly. Scott Hastings, a white power forward from Independence, Kansas, who played 11 seasons in the NBA, nominated Karl Malone, who didn't make the team. "The guy drives a diesel and raises cattle," he explained. "You don't get any whiter than that."
Fortune business writer Andy Serwer flew to Charlotte, North Carolina, and wrote the cover story on Larry Johnson. The Hornets forward was one of the most exciting young stars in the league. Selected first overall by Charlotte in 1991, Johnson won Rookie of the Year after averaging 19.2 points and 11.0 rebounds in his first season. He played an above-the-rim game and was a product of a UNLV team that embraced a hip-hop aesthetic. Johnson was a signature sneaker athlete with Converse, starring in a series of popular commercials wearing a grey wig and flower-print dress as Grandmama, an elderly woman alter-ego. He fit the profile of what SLAM envisioned as their ideal cover subject.
The first issue was finally ready for the newsstand.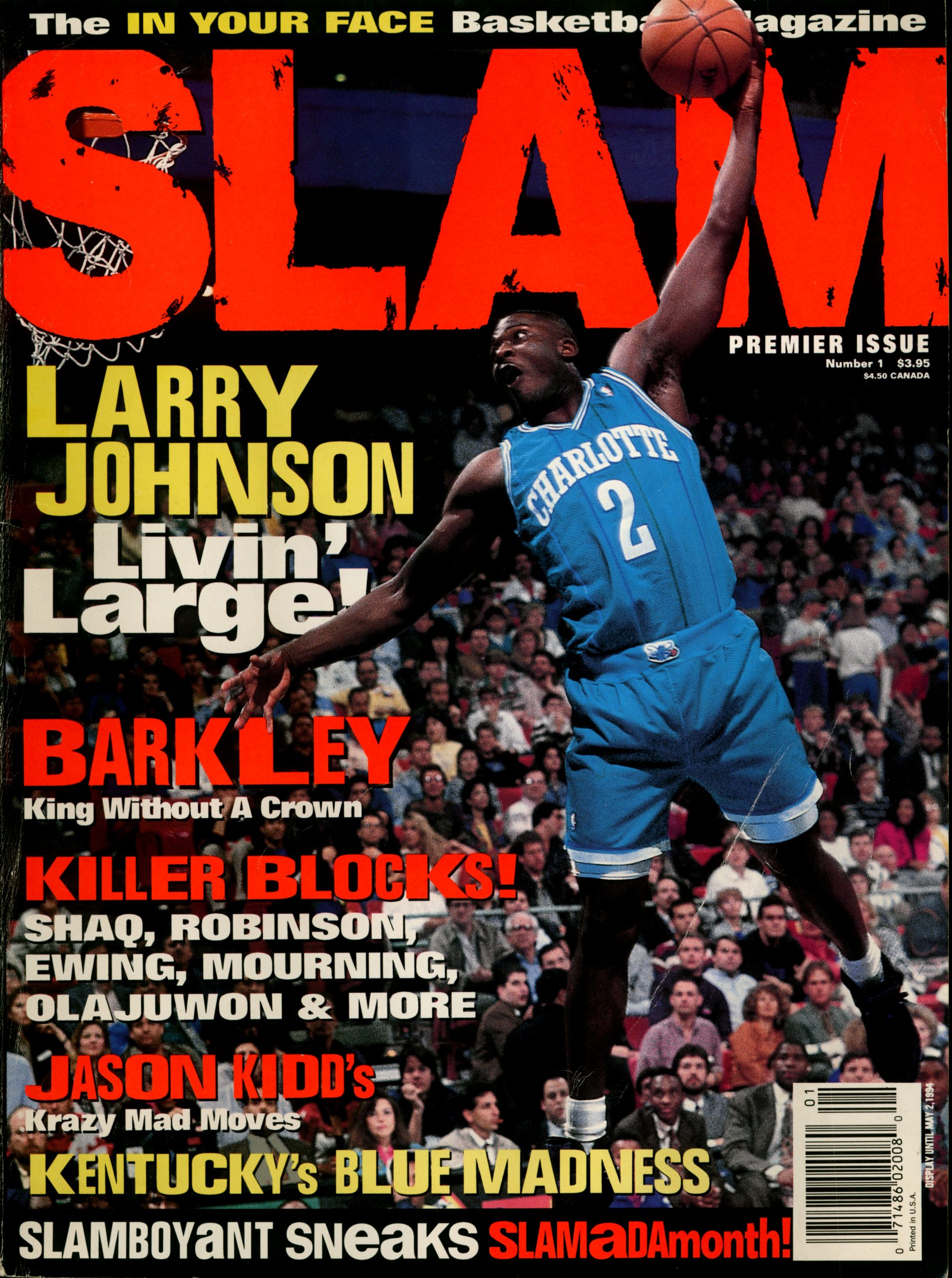 The cover featured a photo of Johnson soaring in mid-air wearing Charlotte's famous white-and-teal jersey. The basketball in his right hand sat just above the magazine's logo. Above the logo was the magazine's slogan THE IN YOUR FACE BASKETBALL MAGAZINE. The caption said LARRY JOHNSON, LIVIN' LARGE! Cover lines filled the rest of the cover, including BARKLEY: KING WITHOUT A CROWN; KILLER BLOCKS! SHAQ, ROBINSON, MOURNING, OLAJUWON & MORE; JASON KIDD'S KRAZY MAD MOVES; KENTUCKY'S BLUE MADNESS; SLAMBOYANT SNEAKS; and SLAMADAMONTH! Every caption was a way to draw a potential reader into picking up the magazine.
Page waited to see if anyone was interested in his new project.
"That was the business at the time," he explained. "There was no internet, Instagram, or Facebook. The newsstand was the true test of whether there was a community out there who cared about your idea. We would have three issues to test whether there was an audience. If it sold, we would keep it rolling. If it didn't, then we wouldn't."
There was some concern about starting a basketball magazine immediately after Jordan retired, but they were alleviated when Harris delivered some excellent news. The newsstand sales were strong enough for SLAM to continue. A second issue arrived on newsstands in October of 1994, with Seattle Supersonics forward Shawn Kemp on the cover. Johnson was replaced by Tony Gervino on the masthead three months later when Shaquille O'Neal appeared on the cover of the magazine's third issue. He had accepted a job offer to become a Vibe senior editor.
"We sold more copies of our first issue than they did," Johnson explained. "They spent like $15 million to launch it. We spent $100,000 tops. I was called into their office, and they asked me, 'How did you do it?' I explained how the magazine worked and what our editorial focus was. They asked me if I would be interested in being a senior editor. I figured I would eventually have a shot at the editor-in-chief role, so I made the jump."
Today, he is still proud of leaving an editorial blueprint behind for his successors.
"The magazine unquestionably looked better in the years after I left," Johnson said. "But the fact it is still largely all the same ideas I brought to the table is enormously gratifying to me and tells me I got a lot of stuff right. I didn't get it right because I was a genius. I got it right because there was something wrong with the way magazines were covering sports."
***
IF YOU SCAN THE FIRST THREE ISSUES OF SLAM today, you'll notice the cover photos didn't come from original photoshoots. The photos of the early covers were licensed from the NBA. "None of the players would pose for us," Page said. "We had to buy existing photography in the very beginning." SLAM had a vision to one day follow the lead of Rolling Stone. Founder and publisher Jann Wenner was a 21-year-old UC Berkeley dropout who couldn't get anyone to take his music writing seriously in 1967 when he scraped together $7,500 from family and friends and convinced San Francisco Chronicle writer Ralph J. Gleason to help him put together a new magazine. The first issue of Rolling Stone arrived on newsstands in the same year, with John Lennon of The Beatles on the cover. The magazine debuted at the height of the hippie movement and became the definitive counterculture magazine of their era, introducing a new generation of artists, including the Grateful Dead, Jimi Hendrix, and Janis Joplin, to the world. Wenner described Rolling Stone as "a publication not just about music but also about the things and attitudes that music embraces" in his first column. The magazine plucked writers from obscure places and turned them into culture-defining voices. Their photographers captured defining images of an entire generation of rock stars. The magazine's portrait photography of cover subjects set the standard for every other publi- cation. Being selected for the Rolling Stone cover became the highest honor for any music artist.
"Jann broke the mold on alternative magazine publishing," Page said. "As far as I'm concerned, they changed print publishing. The way Rolling Stone shot their covers provided the vision for every magazine that came after them. Nobody had shot athletes that way before and we wanted to be the first. We would consider ourselves lucky if we could shoot a cover that was one-tenth as good as Rolling Stone."
By the time SLAM published their first issue, Rolling Stone was no longer a cultural force on the newsstand. The magazine, which was once bursting with creative energy, grew into a $250 million conglomerate in the 1980s and lost the qualities that defined them. The Rolling Stone cover increasingly became a landing spot for established celebrities and was no longer a birthplace for new stars. A writer who joined the mag- azine in 1993 compared his new job to showing up to the party just in time to see a cigarette floating in the last cocktail of the night.
SLAM's goal was to become the modern-day basketball version of Rolling Stone, embracing the same rebellious streak which gave birth to the rock 'n' roll magazine three decades earlier.
But they needed to find their voice first.
---
Cover Story: The NBA and Modern Basketball as Told Through its Most Iconic Magazine Covers is reprinted with permission from Triumph Books. All rights reserved.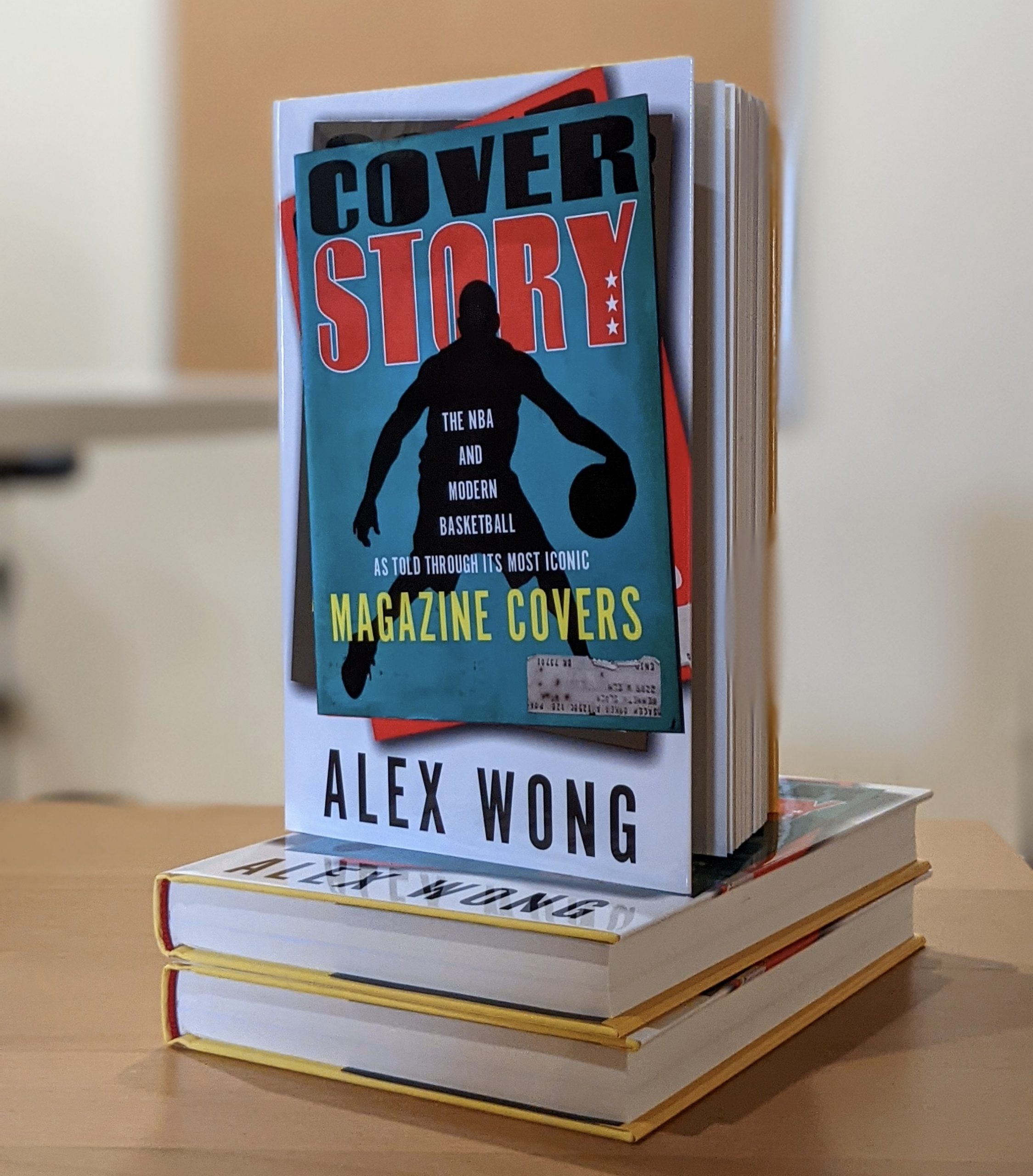 The post The Story of How SLAM Was Founded, as Told By Those Who Were There appeared first on SLAM.