Taj Gibson is Giving Back to His Community in Fort Greene, Brooklyn | SLAM
The birthplace of Michael Jordan. Bernard King. Epiphanny Prince. Omar Cook. Fort Greene—a relatively small neighborhood adjacent to Downtown Brooklyn—has produced some of the most well-known hoopers to come out of New York City. Today, though, the neighborhood is well-repped in the League by New York Knicks big Taj Gibson, who grew up in the Ingersoll Houses. The neighborhood actually has over 50 public housing buildings, and yet, it stands right at the heart of gentrification, as glassy high-rises adorn the skyline. With the cost of living sky-rocketing in the area (and everywhere else), resources feel as scarce as ever, but Gibson has made it his mission over the past 11 years to come back to the block and take care of the community that shaped him.
"Fort Greene [has] so much culture, but at the same time, it's the trenches, too. That's what makes it special," says Gibson. "Ingersoll Houses were always rough. It was always a tough place to grow up. You had so many legendary guys that came out of Fort Greene. Growing up in Fort Greene taught me a lot of life lessons, and it built a lot of strong character. I remember my first day coming outside alone, I had like two fights. Two fights! As soon as I came out by myself, I was fighting. But the people I was fighting were the same people who grew into some of the closest friends I ever had in my life. That's just kind of hood politics for you."
As fate would have it, Prince and Gibson both ended up getting drafted to Chicago—Gibson to the Bulls in '09 and Prince to the Sky in '10. With the Fort Greene natives hooping in the same city once again, they connected often and reminisced on playing at the same school gym, PS 265. By the time the holidays came around in 2010, though, they decided it was time to return and look out. They launched the Taj Gibson and Epiphanny Prince Christmas Giveback that winter and ran youth tournaments in Fort Greene the following summer. Ever since, Gibson has been operating an array of programs in the area year-round through his foundation. Basketball tournaments, bookbag giveaways, bike drives, coat drives, computer giveaways, workshops, food delivery for the elderly. You name it.
"What motivated me is, one of my best friends, Charles Wynn, when I first got drafted, he passed away tragically from gun violence. He was always telling me that once we get on, we gotta come back and do what's right," the 6-9 vet says. "At first, it just started out with tournaments, but as the years went on, it changed to something totally different, to where now I was raising kids that turned into adults. They appreciated the tournaments, the workshops, and it just took off. You're dealing with kids that don't have a father at home, a mother at home. You start making sure kids get home safe. You're dealing with death in the family, where you might have to step in and be that newfound father they never knew they had."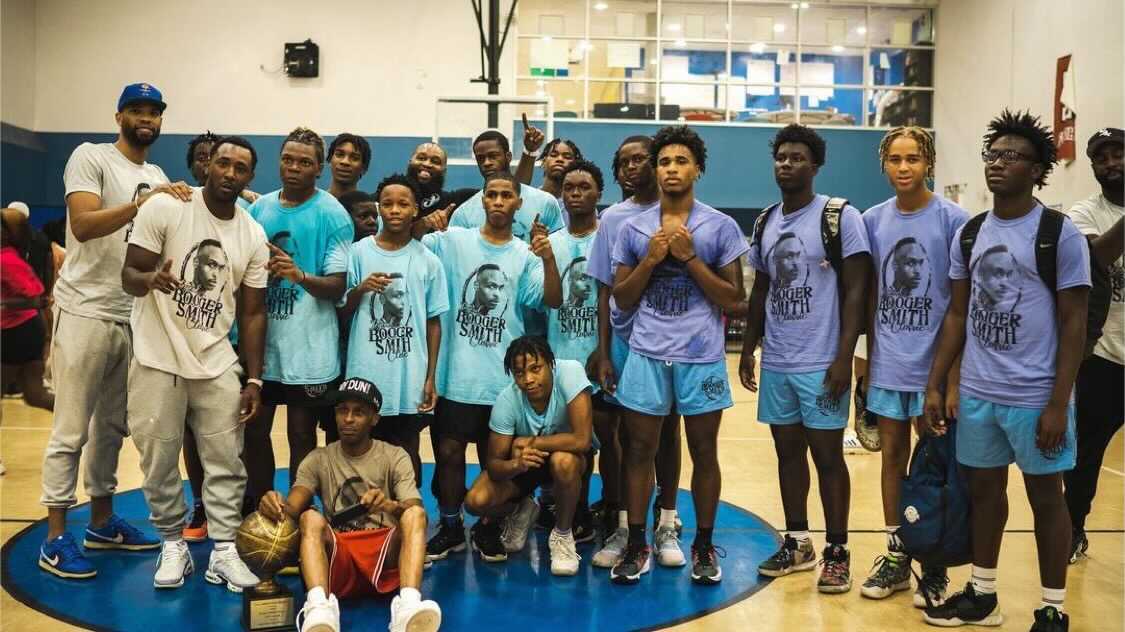 In August, the Taj Gibson Foundation helped put together the Ed "Booger" Smith Classic, named after the FG native and streetball legend who was featured in the Soul in the Hole documentary and appeared in the iconic He Got Game. In the summer of 2020, Gibson also returned to the same Ingersoll playground he used to hoop at and where he got his first dunk, and helped refurbish the deteriorating blacktop.
"It was a great thing for the community because we were able to give people jobs while we were fixing the court, and actually pay them," Gibson recalls. "That was the biggest thing for me. We're trying to do more courts and developments around Brooklyn, and while we're doing that [also] give people jobs."
"I look at all the trials and tribulations it took to get here. A lot of good friends I lost growing up that I had a lot of good childhood memories with on that court," Gibson adds. "It's always bittersweet because you look at what you've gained and what you've lost."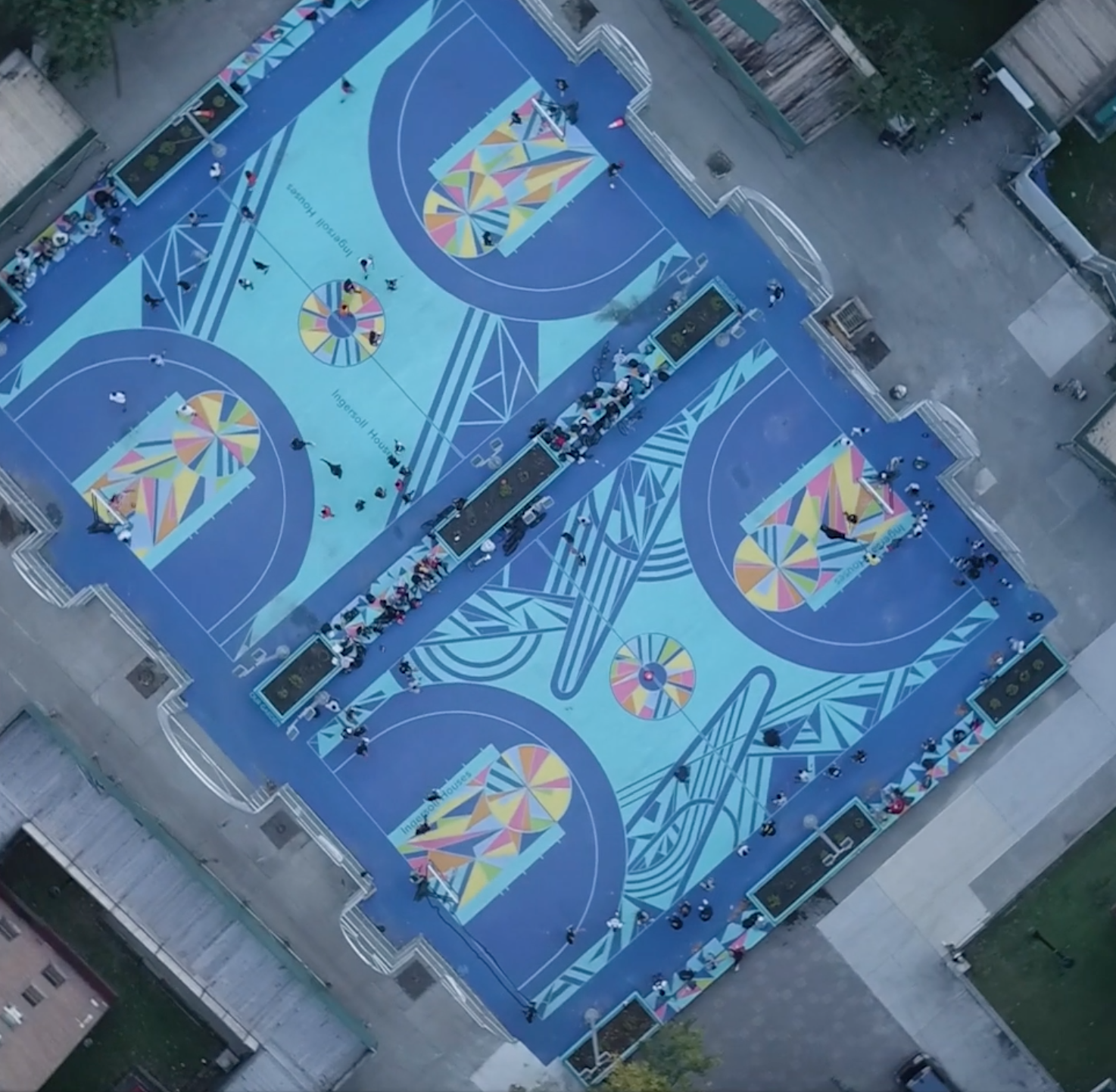 ---
Photos via MarsMedia and Getty Images.
The post Taj Gibson is on a Mission to Give Back to His Community in Fort Greene, Brooklyn appeared first on SLAM.
'I'm a True PG': Kennedy Chandler is Ready Make His Mark at Tennessee | SLAM
It's spring, 2019, and Kennedy Chandler is strategizing on how to make his big splash on the national stage once and for all. He's wrapping up his sophomore year at Briarcrest Christian School in Memphis, TN, and the AAU season is on the horizon. Two years into his high school career, he's developed a name locally within Grind City, but for whatever reason, he just can't seem to get the same kind of love outside of the Tennessee borders. He's been putting in the work. He's been outplaying his opponents. He knows it. But it just hasn't translated into getting his fair share of recognition on a country-wide scale.
He knows he has to take it to another level this spring and summer in order to avoid falling through the cracks. Even if that means thinking outside the box and making drastic changes and bold sacrifices. And, so, he does.
Chandler ultimately chooses to leave his local AAU program and instead joins Mokan Elite, one of the top programs in the prestigious Nike EYBL circuit. The move requires him to hop on a flight every Friday so that he can practice with the team 450 miles away in Kansas City, MO, throughout the weekend, and then hop on a flight right back home every Sunday to return to school. The move would automatically place Chandler on the grand stage. All he had to do was perform, and the weekly travel sacrifices would pay off.
"It was tiring. I had to do schoolwork when I was in Kansas City," Chandler recalls of his Mokan days. "I missed school every Friday. I was like, Am I even going to pass? Because I was missing school [sometimes]—either I was going to school and checking out early or I flew Friday night. So it was a tough decision for me to make.
"My name was nowhere freshman year. I tell people I had doubted myself freshman year. Was this even for me? Because I was getting no looks. My name wasn't out there. I was just a freshman point guard playing at a Christian high school in Memphis, TN. After I played for [Mokan Elite], my first game with Mokan, I picked up four offers in one day and that's when I knew—like, Yeah, it's coming. It's starting. Four offers in one day, that's more than the [total] offers I had before. I only had three offers before entering that first game in Atlanta for the first EYBL session."
He hasn't looked back since. The offers began to pile up by the dozens. From Duke and Kentucky to North Carolina and Kansas, he soon became one of the most sought-after recruits in the Class of 2021.
Mokan went on to win the EYBL title that summer—the program's second title after winning it all with Trae Young and Michael Porter Jr a few years back—by defeating a Jalen Green-led Team WhyNot in the championship, capping off in grand style a summer for the ages for Chandler.
But going to Kansas City wasn't the only sacrifice Chandler found himself making. A year later, the 6-1 guard boarded a flight again, this time to Wichita, Kansas; and it wasn't a round-trip. Looking to take it up a notch once again, and willing to make the necessary moves in order to do so, the point guard left Briarcrest Christian after nine years—yes, he had been attending the same school since second grade—and enrolled in a school almost 600 miles away for his senior year. At Sunrise Christian Academy, Chandler had left behind family and longtime friends in order to join a program that competed in a challenging national schedule. He was simply looking to test himself as he prepared to make the jump to the collegiate level.
And just like he did when he changed AAU teams, Chandler found a way to lead his newest squad to another championship game, this time taking Sunrise to the GEICO Nationals title game. They would fall short to Montverde Academy but nonetheless Chandler had left an even bigger impression on scouting services—he walked away from high school as the unanimous top rated point guard in the country on ESPN, Rivals and 247 Sports.
"I never expected to leave all my friends and family not being able to see me because of the pandemic. This was the second hardest choice I ever made. Me going to a school 12 hours away from home. My family had to watch my games online," says Chandler. "I loved the school, Coach [Luke] Barnwell, the team, the coaches, the players. I'm glad I made that move [last] year…I never been that far away from home. For Kansas City, I was just flying out of town every weekend, but this was like college. Waking up on my own, getting ready for college. Sunrise got me ready for it."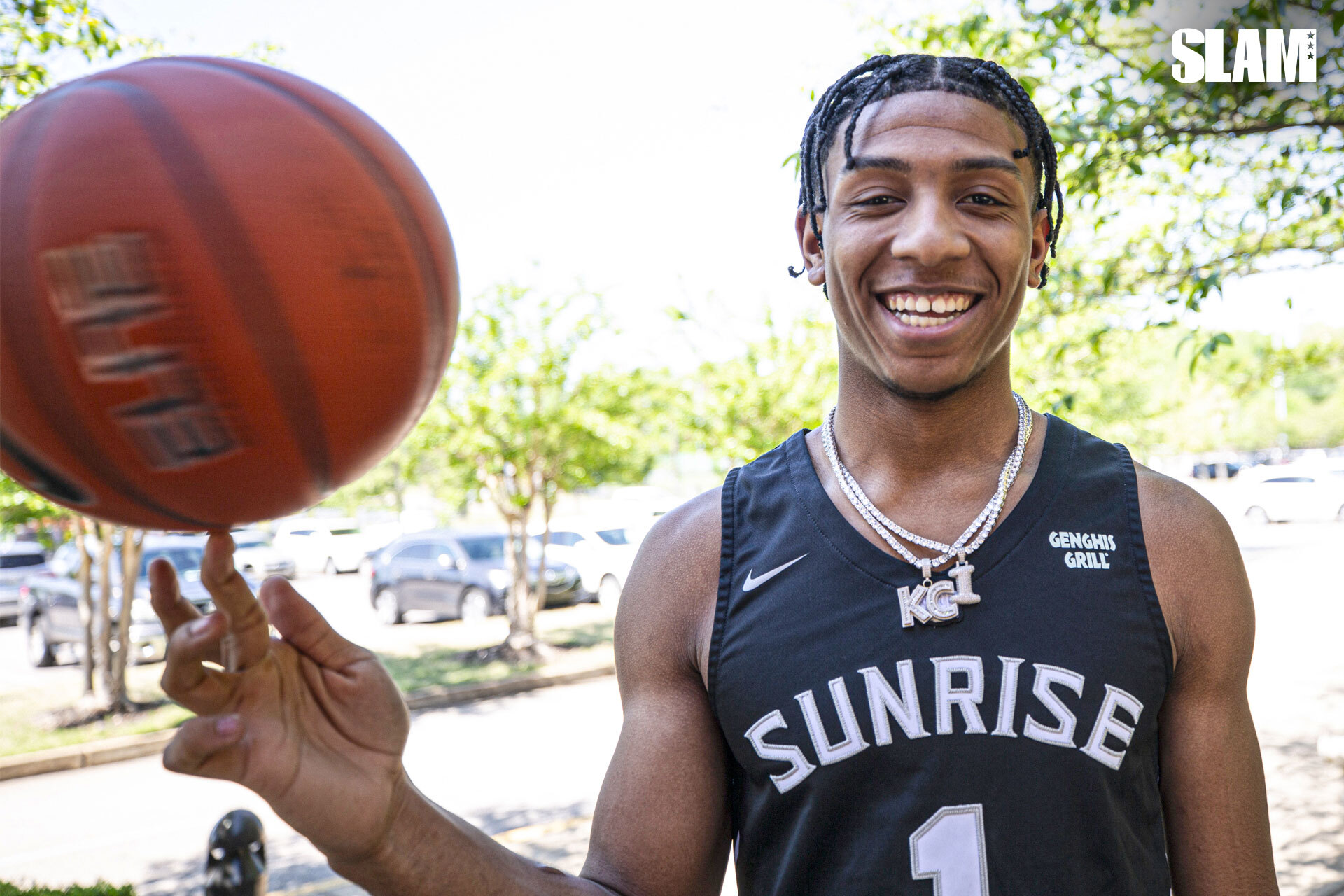 Next up is the University of Tennessee—a place that already felt right to him before he even got a scholarship offer or went on an official visit. Chandler tells the story of when he visited campus as a high school freshman for the first time. There was a football game against Alabama. "They got killed," he says of Tennessee before he burst out laughing. But the unofficial visit made a lasting impression on him regardless.
"When you go to a college, you want to see that it feels like home," he adds. "And Tennessee felt like home on an unofficial visit. I had not [even] taken an official visit and I [already] felt comfortable with the coaches, compared to the other coaches I had visited."
He isn't shying away from stating exactly what he's chasing after this upcoming season. Chandler has a list he's hoping to check off one by one beginning this fall and going straight through the winter and next spring.
"At Tennessee, I want to come in and show them why I was the number one point guard in the nation—who's coming into their program and why he should be here," says Chandler. "I want to win a national championship at Tennessee. I set goals, and my goal is I want to make them come true, and my [ultimate] goal is to go to the NBA."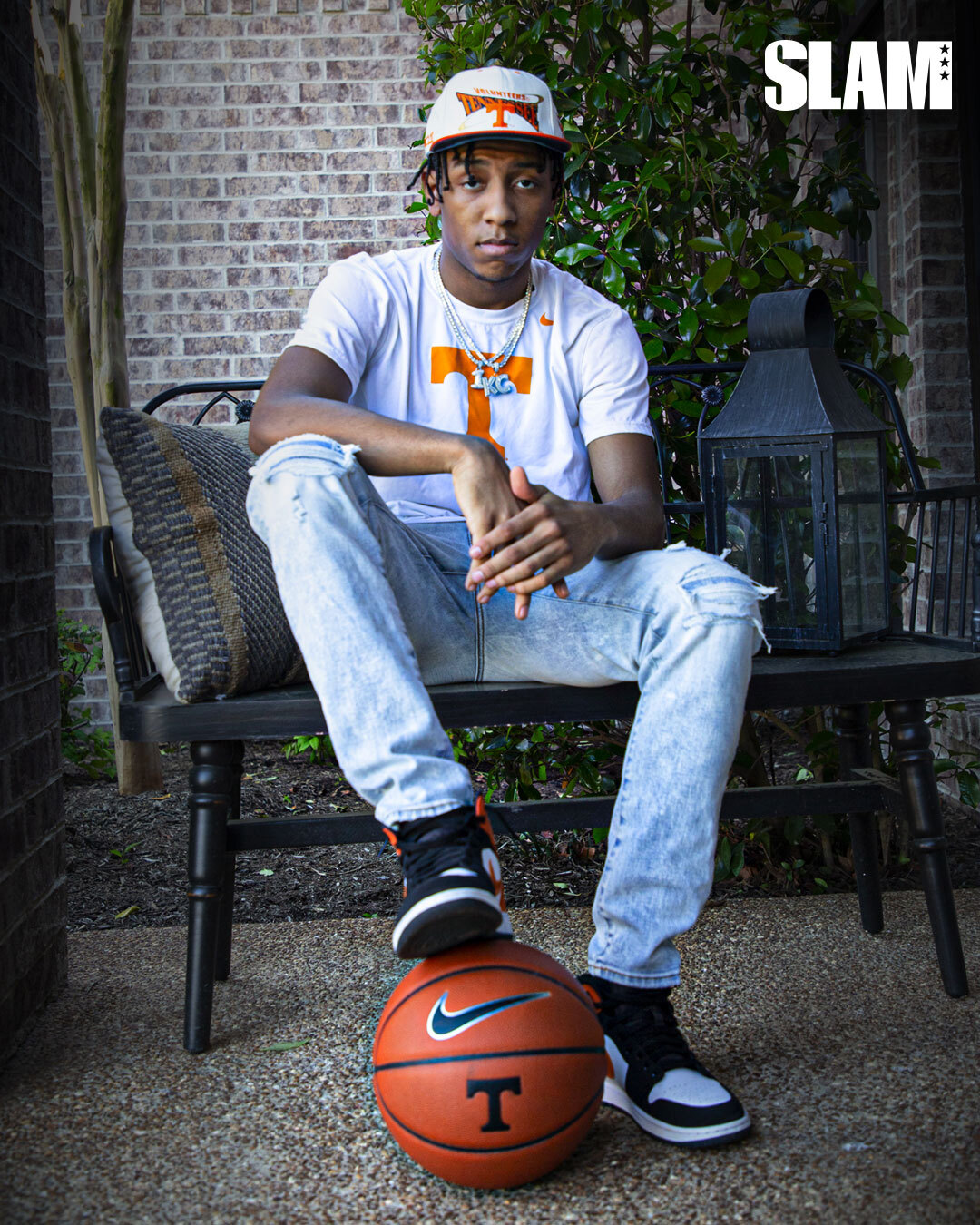 He continues listing more: "SEC Player of the Year. Win the SEC Tournament. We got a really good chance, we got a lot of good players coming back and good players that's coming in. And making it to the Final Four and winning the national championship. Those are my goals for next year."
Along the way he's developed a tight-knit friendship with current Memphis Grizzlies star Ja Morant. He says that after Ja got drafted by Memphis in the summer of 2019, the future Rookie of the Year reached out to him asking where he could get some good runs in around town. Chandler pointed him in the right direction. The two remained friends ever since. When Chandler announced his college decision date, Morant quote tweeted "my brother" with a heart emoji in support. Trae Young also quote tweeted Chandler after he announced his decision, showing love and telling him to "go crazy."
Just like Morant and Young, Chandler is a small PG by NBA standards. He's studied how they've been able to succeed at the highest level of basketball, in hopes of one day replicating them. Another small guard he admires is Chris Paul. When Chandler was invited to the CP3 Elite Guard Camp, he took advantage of the opportunity and asked the NBA superstar how he's been able to hold his own so well in the Association despite the size disadvantage. CP3's response had a lasting effect on him.
"He was like, You just gotta play physical. You have to play like a dog," recalls Chandler. "And ever since then—he had shown us clips of him when he was in the NBA—I had learned from that and I've watched the clips all the time ever since."
Chandler's confidence is limitless despite his size. He's seen how his meteoric rise over the past two years has been the result of betting on himself and sticking with his gut when it comes to decisions that require sacrificing much more than your average high school prospect. He's aware of how far his confidence has brought him, and it'll continue to be the driving force behind his success at Tennessee and beyond.
"I'm a true PG and anybody would love playing with me. I get everybody involved. The game just comes to me," says Chandler. "I can get around the rim, finish around the rim any time. People used to go under screens because I wouldn't shoot the ball, but now you really can't do that, so it's hard to defend me."
---
FOLLOW @SLAMUNIVERSITY ON INSTAGRAM FOR ALL THINGS COLLEGE HOOPS!
Portraits by Christian Quezada.
The post Kennedy Chandler is Ready Make His Mark at Tennessee appeared first on SLAM.
The Story of How SLAM Was Founded, Told By Those Who Were There | SLAM
This is an excerpt from Cover Story: The NBA and Modern Basketball as Told Through its Most Iconic Magazine Covers, which details the history of iconic sports magazine covers, specifically focused on 1984-2003. It's been reprinted with permission from Triumph Books. Order your copy now.
---
Sports Illustrated took over a decade to figure out a blueprint for what their magazine should look like.
SLAM took one issue.
The magazine would change over time. Their voice would evolve. The magazine cover looks drastically different today. But flip through a present-day issue of SLAM, and it still reads pretty much the same from front to back as the very first issue, which came out almost 30 years ago.
The first issue of SLAM featured short-bit culture stories on Pearl Jam's near-decision to name themselves after Atlanta Hawks guard Mookie Blaylock and basketball's growing popularity in Japan. There's a dunk of the month. There's a one-page feature on high schooler Steve Wojciechowski, along with profiles of college point guard Jason Kidd, perennial NBA All-Star Charles Barkley, and New York–playground legend Joe Hammond. There are full-page photospreads of the latest sneaker releases, and a six-page photo essay on playground hoopers around the country, including a cameo from a 16-year-old Paul Pierce.
This is what SLAM still is today: a magazine celebrating the sport of basketball. A casual voice. An all-encompassing approach of covering high school, college, and the pro game. A magazine highlighting sneakers and athletic apparel. A personality-driven publication. A magazine that didn't tie themselves to the current news cycle.
Founder and publisher Dennis Page established a blueprint for what a modern-day basketball publication could look like from the very beginning.
"We were passionate," he said. "The feel of the magazine was like if you were playing in the playground. That's how people spoke."
Page was inside the Paramount Theater at Madison Square Garden where the 1994 Source Awards was taking place when record label executive and friend Alan Grunblatt tossed out the idea of a magazine merging basketball and hip-hop. He went home that evening and drafted up a table of contents.
A Trenton, New Jersey, native, Page studied broadcasting and film at Boston University and got his first full-time job selling ads for the alt- weekly Boston Phoenix. Page loved magazines. He dreamed of running his own one day. The goal was always Rolling Stone. Page was working for another rock 'n' roll magazine, Circus, in 1980 when Stanley Harris called. Harris was the founder of Harris Publications, a New York–based publisher started in 1977 with a portfolio of special-interest magazines. They had puzzle books and monthly magazines on topics ranging from gardening to guns. Page was offered a job to manage a new guitar magazine. It was a chance to run a magazine even if it wasn't Rolling Stone.
"I didn't know shit about playing guitars," Page said. "But I was good at the advertising and publishing business. So I said yes."
He became the publisher of Guitar World, which arrived on newsstands in 1980 and became the number one guitar magazine. The success of the publication earned him a lot of goodwill with Harris. Page kept searching for the next idea. He convinced Harris to start another magazine in 1987. It was called New York Talk.
"We launched it during a huge snowstorm and couldn't get the issue out to the newsstands," Page recalled. "It was an omen of failure."
The magazine borrowed from the concepts of Village Voice and the East Village Eye and covered the local news along with the New York film, television, and music scene. The newsstand was about taking a successful idea you liked and trying to improve upon it yourself. A lot of these publications failed, including New York Talk, which folded after three years.
Page's new magazine idea, inspired by his conversation with Grunblatt, was more aligned with his interests. He fell in love with basketball in sixth grade watching a high schooler named Lew Alcindor, became a high school and college hoops junkie, watched streetball legends at New York playgrounds, and joined the NBA craze during the era of Julius Erving, Larry Bird, and Magic Johnson.
But he couldn't figure out the table of contents.
"I started by building a hip-hop magazine about basketball," Page explained.
He had the two components in the wrong order.
Another lightbulb moment hit.
It would be a basketball magazine with a hip-hop voice and not the other way around.
It would look like Vibe.
It would read like The Source.
He pitched the idea to Harris, who asked him to get it on newsstands immediately.
Page needed an editor-in-chief. He called Village Voice editor Tom Curtis, who said no, but recommended Time Inc. writer Cory Johnson, a St. Joseph, Michigan, native who studied journalism at NYU and wrote for a bunch of magazines, including Sports Illustrated, People, and TIME.
"Tom told me this guy who makes Guitar World wants to start a new basketball magazine and asked me if I had any ideas for it," Johnson recalled. "I said, 'Abso-fuckng-lute-ly I have ideas.' I was in the thick of learning how magazines were made. It was what I did all day."
A meeting was set at a French bistro restaurant located in the SoHo neighborhood of Manhattan, New York, named Raoul's. Johnson sat down and pitched his vision to Page. He read a lot of Marvel comics growing up and loved how comic book writer Stan Lee would engage readers at the back of every one of them. Lee responded to fan letters and sent no-prizes—an envelope with no contents inside, which became a running joke with the readers—to anyone who wrote to him about continuity errors or typos. Johnson wanted the magazine to start by engaging their readers in the letters section.
"I presented a pretty laid-out plan," he recalled. "There would be short features in the front like New York Magazine's Intelligencer section. There would be one-page profiles like Interview magazine. The features section would be in the style of Vanity Fair. The sections in the back would be devoted to angles around the business of hoops. I wanted the last page of the magazine to be a dunk of the month.
"I wanted it to feel like Surfer magazine. I loved that magazine so much I taught myself to surf. Their ideal was: surfing was not about the celebrities at the top of the pyramid who did it, but instead it was about the everyday experience of the sport. I always thought Sports Illustrated had this pyramid when it came to basketball where they didn't love the game, but instead they loved the heroes of the game. Their editors thought it was all about the stars and not about the game itself. I wanted to flip that approach upside-down. I wanted the magazine to be about the experience we all had playing the game of basketball. Sports Illustrated was only about Michael Jordan. I wanted us to be about the game of basketball."
There was one last thing they needed to figure out together.
A name for the magazine.
The two tossed out every basketball-related term they could think of.
Crossover.
Dribble.
Jam.
None of them felt right.
They finally landed on SLAM.
Johnson was hired and moonlighted as the magazine's editor-in-chief. "I would be fact-checking a murder story for People and I'd get a phone call from Dennis," Johnson said. "I would hop in a taxi, race downtown to approve a layout, then race back. It was like I had moved on to my new girlfriend without telling my existing girlfriend."
Page scrambled to place ads in the magazine. Today, he credits The Source and Vibe for making his job easier back then. Page didn't have to explain what hip-hop was to advertisers. Guitar World art director Susan Conley designed the magazine layout. Johnson assigned stories to people he knew in the industry, including basketball writer and New York–streetball historian Vincent Mallozzi, People reporter Nancy Jo Sales, and Vibe senior editor Bonz Malone. He also wrote a couple of stories himself and attributed them to made-up names in the masthead. "I wanted to make it look like a real magazine since it was just a couple of other guys and myself working on it," Johnson explained. "Russell Shoemaker, the senior editor in the masthead, that's me. Russell was my best friend from church. Shoemaker was my godfather's last name. I just put their names together."
Page cringes at some of the stories today, especially a SLAM NBA All-White Team feature where the magazine interviewed white players around the league and nominated Chris Mullin, Dan Majerle, Detlef Schrempf, Tom Gugliotta, John Stockton, and Rony Seikaly. Scott Hastings, a white power forward from Independence, Kansas, who played 11 seasons in the NBA, nominated Karl Malone, who didn't make the team. "The guy drives a diesel and raises cattle," he explained. "You don't get any whiter than that."
Fortune business writer Andy Serwer flew to Charlotte, North Carolina, and wrote the cover story on Larry Johnson. The Hornets forward was one of the most exciting young stars in the league. Selected first overall by Charlotte in 1991, Johnson won Rookie of the Year after averaging 19.2 points and 11.0 rebounds in his first season. He played an above-the-rim game and was a product of a UNLV team that embraced a hip-hop aesthetic. Johnson was a signature sneaker athlete with Converse, starring in a series of popular commercials wearing a grey wig and flower-print dress as Grandmama, an elderly woman alter-ego. He fit the profile of what SLAM envisioned as their ideal cover subject.
The first issue was finally ready for the newsstand.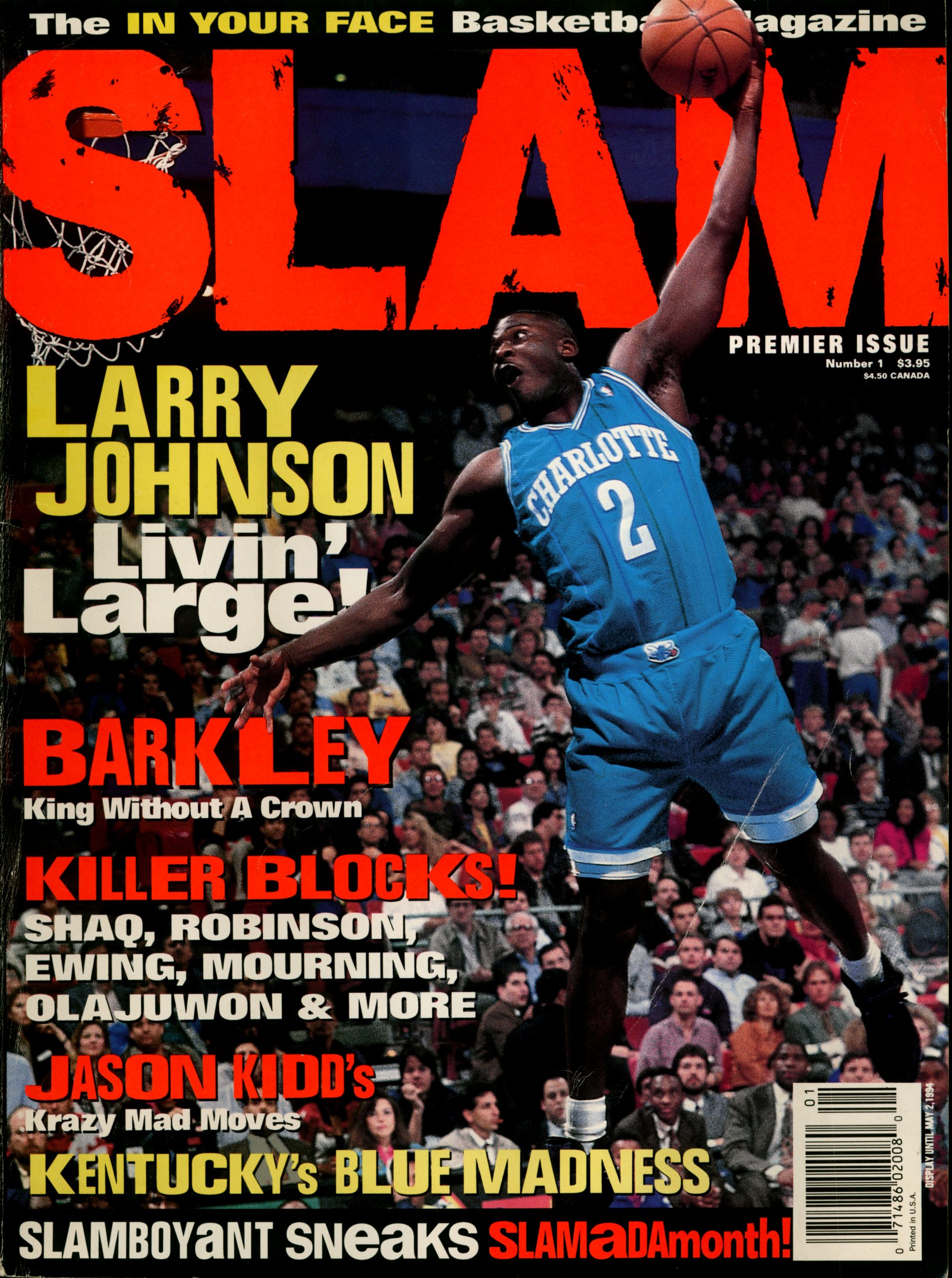 The cover featured a photo of Johnson soaring in mid-air wearing Charlotte's famous white-and-teal jersey. The basketball in his right hand sat just above the magazine's logo. Above the logo was the magazine's slogan THE IN YOUR FACE BASKETBALL MAGAZINE. The caption said LARRY JOHNSON, LIVIN' LARGE! Cover lines filled the rest of the cover, including BARKLEY: KING WITHOUT A CROWN; KILLER BLOCKS! SHAQ, ROBINSON, MOURNING, OLAJUWON & MORE; JASON KIDD'S KRAZY MAD MOVES; KENTUCKY'S BLUE MADNESS; SLAMBOYANT SNEAKS; and SLAMADAMONTH! Every caption was a way to draw a potential reader into picking up the magazine.
Page waited to see if anyone was interested in his new project.
"That was the business at the time," he explained. "There was no internet, Instagram, or Facebook. The newsstand was the true test of whether there was a community out there who cared about your idea. We would have three issues to test whether there was an audience. If it sold, we would keep it rolling. If it didn't, then we wouldn't."
There was some concern about starting a basketball magazine immediately after Jordan retired, but they were alleviated when Harris delivered some excellent news. The newsstand sales were strong enough for SLAM to continue. A second issue arrived on newsstands in October of 1994, with Seattle Supersonics forward Shawn Kemp on the cover. Johnson was replaced by Tony Gervino on the masthead three months later when Shaquille O'Neal appeared on the cover of the magazine's third issue. He had accepted a job offer to become a Vibe senior editor.
"We sold more copies of our first issue than they did," Johnson explained. "They spent like $15 million to launch it. We spent $100,000 tops. I was called into their office, and they asked me, 'How did you do it?' I explained how the magazine worked and what our editorial focus was. They asked me if I would be interested in being a senior editor. I figured I would eventually have a shot at the editor-in-chief role, so I made the jump."
Today, he is still proud of leaving an editorial blueprint behind for his successors.
"The magazine unquestionably looked better in the years after I left," Johnson said. "But the fact it is still largely all the same ideas I brought to the table is enormously gratifying to me and tells me I got a lot of stuff right. I didn't get it right because I was a genius. I got it right because there was something wrong with the way magazines were covering sports."
***
IF YOU SCAN THE FIRST THREE ISSUES OF SLAM today, you'll notice the cover photos didn't come from original photoshoots. The photos of the early covers were licensed from the NBA. "None of the players would pose for us," Page said. "We had to buy existing photography in the very beginning." SLAM had a vision to one day follow the lead of Rolling Stone. Founder and publisher Jann Wenner was a 21-year-old UC Berkeley dropout who couldn't get anyone to take his music writing seriously in 1967 when he scraped together $7,500 from family and friends and convinced San Francisco Chronicle writer Ralph J. Gleason to help him put together a new magazine. The first issue of Rolling Stone arrived on newsstands in the same year, with John Lennon of The Beatles on the cover. The magazine debuted at the height of the hippie movement and became the definitive counterculture magazine of their era, introducing a new generation of artists, including the Grateful Dead, Jimi Hendrix, and Janis Joplin, to the world. Wenner described Rolling Stone as "a publication not just about music but also about the things and attitudes that music embraces" in his first column. The magazine plucked writers from obscure places and turned them into culture-defining voices. Their photographers captured defining images of an entire generation of rock stars. The magazine's portrait photography of cover subjects set the standard for every other publi- cation. Being selected for the Rolling Stone cover became the highest honor for any music artist.
"Jann broke the mold on alternative magazine publishing," Page said. "As far as I'm concerned, they changed print publishing. The way Rolling Stone shot their covers provided the vision for every magazine that came after them. Nobody had shot athletes that way before and we wanted to be the first. We would consider ourselves lucky if we could shoot a cover that was one-tenth as good as Rolling Stone."
By the time SLAM published their first issue, Rolling Stone was no longer a cultural force on the newsstand. The magazine, which was once bursting with creative energy, grew into a $250 million conglomerate in the 1980s and lost the qualities that defined them. The Rolling Stone cover increasingly became a landing spot for established celebrities and was no longer a birthplace for new stars. A writer who joined the mag- azine in 1993 compared his new job to showing up to the party just in time to see a cigarette floating in the last cocktail of the night.
SLAM's goal was to become the modern-day basketball version of Rolling Stone, embracing the same rebellious streak which gave birth to the rock 'n' roll magazine three decades earlier.
But they needed to find their voice first.
---
Cover Story: The NBA and Modern Basketball as Told Through its Most Iconic Magazine Covers is reprinted with permission from Triumph Books. All rights reserved.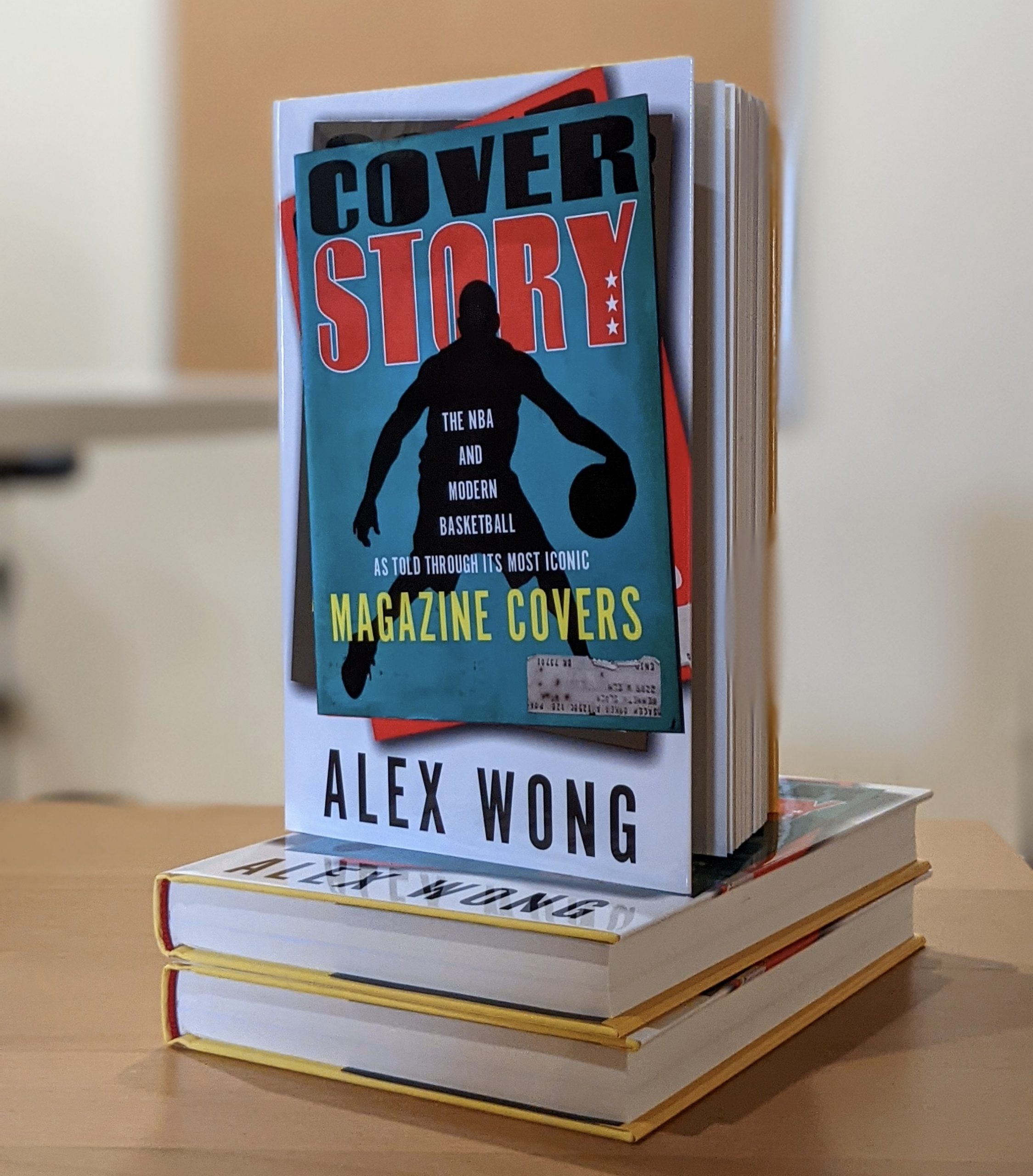 The post The Story of How SLAM Was Founded, as Told By Those Who Were There appeared first on SLAM.