Steve Kerr Marvels On the Performance of Stephen Curry | SLAM
In his first game, despite getting a triple-double for the first time since 2016, Stephen Curry called his performance against the Los Angeles Lakers "trash" in his post game interview.
Two nights later against the Los Angeles Clippers, Curry had a night to remember.
So @StephenCurry30 had a night…

Named to #NBA75 before tip
25 1Q points on 9-9 shooting
45 in the game
Go-ahead triple to lift @warriors pic.twitter.com/98JFwH9lsA

— NBA (@NBA) October 22, 2021
The Golden State Warriors superstar dropped 45 points to carry his team to a win over the LA Clippers, 115-113. After shooting only 5-21 on opening night, Curry hit all of his nine shots from the field for 25 points in the first quarter, and then returned late to close out the game with 10 points in the final four minutes on the game with two shots from downtown.
Warriors head coach Steve Kerr has been on the sidelines for years for these types of performances, per abc News, he says he's "still blown away":
"Jama [assistant coach] came up to me after the game, he said, 'This may not be new to you guys, but [DeJan Milojevic] and I were just talking'—this is their first time with the Steph Curry Experience," Kerr said. "They were just blown away. And even though we've all been here watching it, I'm still blown away. There's never been anybody like him. Not just the shooting range but the competitiveness, the guts, just an amazing, amazing player. What a game he had."
Curry's first quarter explosion was the second time in his career that he attained 25 points and five threes while not missing a shot in a single quarter. 
The Warriors are currently 2-0 and play the Sacramento Kings on Sunday.
The post Steve Kerr Marvels On the Performance of Stephen Curry appeared first on SLAM.
Steve Kerr Says Andrew Wiggins Is Weeks Away From Full Conditioning | SLAM
With the start of the 2021-22 regular season just days away, one of the most interesting teams is the Golden State Warriors. Among the most talented teams in the NBA when healthy, they've got a lot riding on this season.
During the preseason, their starting wing Andrew Wiggins missed a game due to knee soreness.
Warriors coach Steve Kerr talked Alex Didion of NBC Sports and other reporters late last week about Wiggins' status heading into the regular season.
"He's probably a couple weeks away from really being able to have his conditioning and rhythm where he wants it to be, and that's fine," said Kerr postgame on Friday. "That's usually the case with a lot of guys as you head into the regular season, so he'll be fine."
Recovering from the knee soreness seems to have set Wiggins back from being in the shape he needs to be at the start of the regular season.
He was a key piece for Golden State last season, averaging 18.6 points and 4.9 rebounds per contest. The health and performance of Wiggins will be a key driver in the success of the Warriors this season.
The post Steve Kerr Says Andrew Wiggins Is Weeks Away From Full Conditioning appeared first on SLAM.
Warriors Cut Down Roster, Including Avery Bradley | SLAM
As the Golden State Warriors gear up for the start of the 2021-22 season, major roster decisions were set to be made over the weekend. As such, a handful of players were waived to cut down the roster.
For starters, The Athletic's Anthony Slater reported that veteran guard Avery Bradley was waived and would not make the final 15-man roster. 
Slater also reported that Golden State also waived Gary Payton II, Mychal Mulder and Jordan Bell as they cut down the roster. 
The Warriors are currently leaving their 15th roster spot vacant, but will continue to discuss what to do with that final spot in the coming days.
It's a big season for the Warriors, who know their window of contention with Steph Curry won't last forever. They've got a great mix of veterans and young prospects that they will look to play with in effort to make a deep postseason push. 
The post Warriors Cut Down Roster, Including Avery Bradley appeared first on SLAM.
SLAM's 2021-2022 NBA Preview: Bold Takes For the Upcoming Season | SLAM
SLAM Fam, you already know what time it is.
The NBA regular season returns tomorrow, and with that, we decided to hit you with a few bold season predictions to get you hyped for the upcoming season.
While we know that there's been a lot of takes floating around on Twitter and NBA season previews out there already, we're entering the chat and dropping a few predictions of our own—from thoughts on who will snag Defensive Player of the Year to which teams will make major waves in the League this year.
The Boston Celtics will have a major comeback season and prevail all the way to the Eastern Conference Finals.
Deyscha "Sway" Smith, Associate Editor
This offseason has been filled with uncertainty all across the L, but one thing's for sure: the Celtics will make a major comeback this season. Al Horford is back in the Bean, All-Star Jayson Tatum is ready to step up and be the leader that he is, and the vibes inside The Auerbach Center were apparently hella competitive during training camp. If they bring that same energy this season and actually show up and show out, the Celtics will make major waves all the way to the Eastern Conference Finals. We're going to manifest this one.
Jalen Green will take home Rookie of the Year.
Elijah Hamilton, Editorial Intern
SLAM 231 cover star Jalen Green will take home the ROY award this season. He generated a massive buzz with his strong performances in the NBA G League Ignite along with the Vegas Summer League and preseason. You can tell he is going to be given the green light to just shoot—which will definitely lead to some big scoring nights for the 6′ 6″ guard throughout the season.
The Warriors will become serious contenders for the Western Conference crown and face off against the Lakers in the WCF before taking it all the way.
DaQuan McFarland, SLAM Intern
Despite the last couple of seasons, one which they fell short by a thread in making it to the playoffs, we can't forget that the Golden State Warriors are back to make a statement to the NBA. Andre Iguodala is back after two seasons with Miami, Draymond Green says he's ready to shoot when the opportunity is there, and even Klay Thompson is reportedly on his way to getting cleared for a full return to practice. It seems like the Bay is back in business, and of course, with one of greatest shooters of all-time, Stephen Curry, the team will get back to their championship-winning ways. Also, I'm calling it now: Jordan Poole will have a breakout season this year.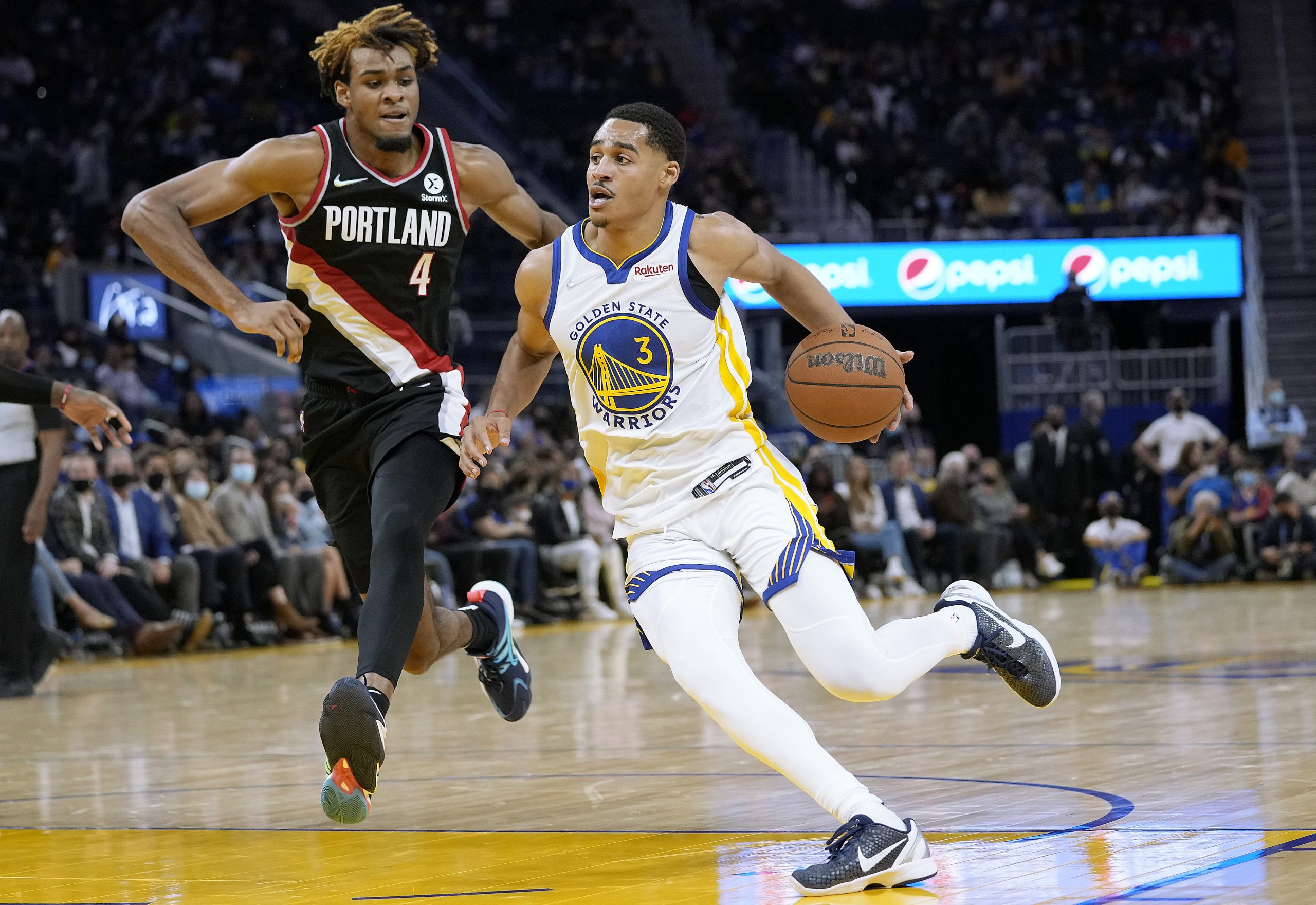 Trae Young will win MVP and the Hawks will dominate the Eastern Conference.
Christian Quezada, Senior Video Producer.
Ice Trae will win his first MVP and the Hawks will win 60 games. Atlanta is loaded with athleticism, defense, and shooting and in the playoffs, Trae Young proved to be one of the most unstoppable basketball players of all time. The Hawks have already shown us that they can compete at an elite level and they weren't even healthy then. This year, at full strength, good luck to them in the Eastern Conference.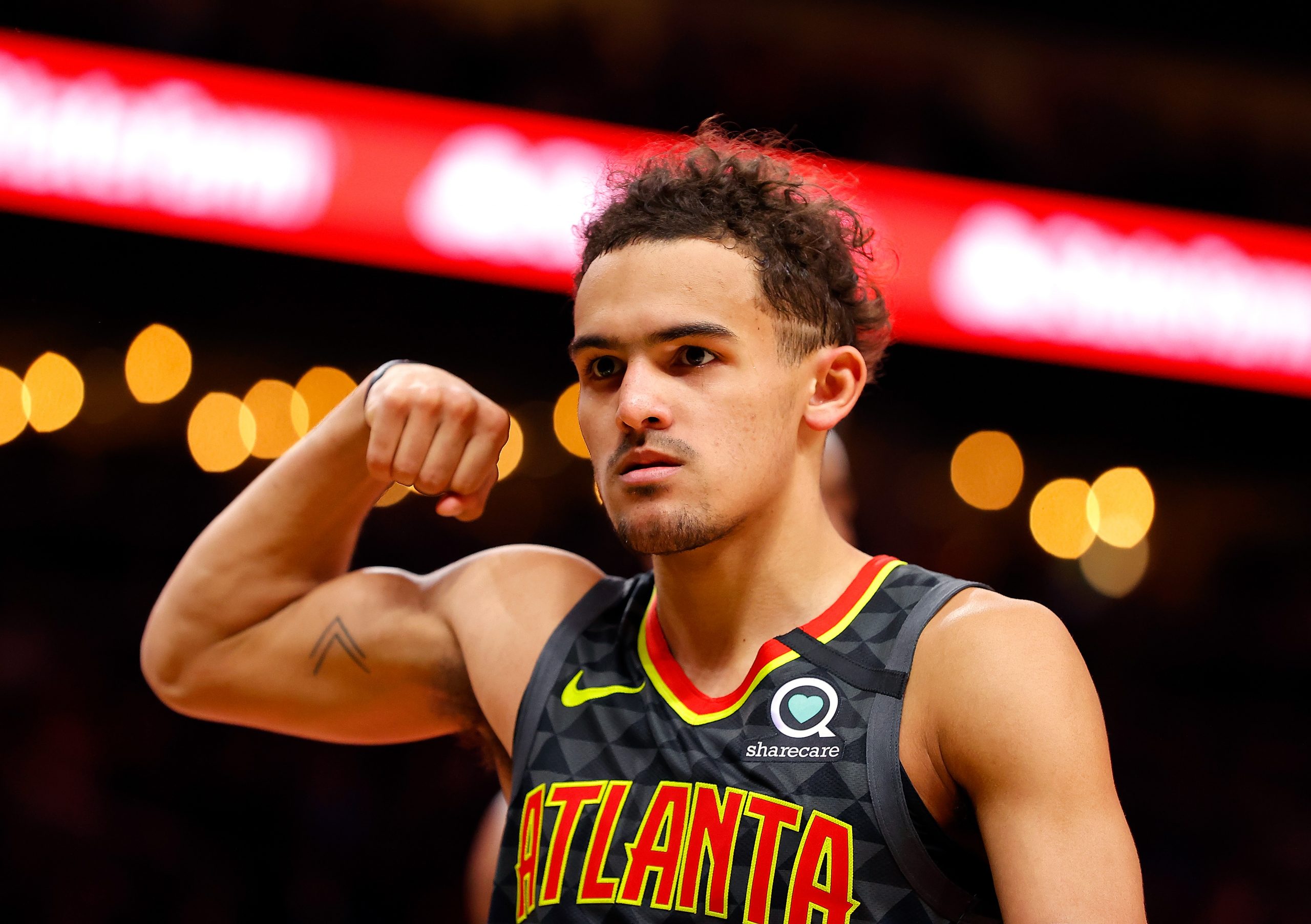 The New York Knicks will run it back and solidify themselves as a major contender all season long.
Andres Puerta, SLAMFTW
There's been a few ECF predictions already, but I'm bringing the New York Knicks into the conversation. With new additions of Kemba Walker at point guard and Evan Fournier at shooting guard, the Knicks will improve their offense greatly. A healthy Mitchell Robinson will also help the Knicks defensively and offensively as a true center. There were great flashes of Immanuel Quickley and Obi Toppin last season, and with those two now entering their second year in the L, they'll definitely have a better feel of the NBA.
If the Knicks receive the same contribution or more from Derrick Rose coming off the bench as the Knicks' sixth man, that will be a major contribution as well. There's nothing better than playing at Madison Square Garden with a winning team.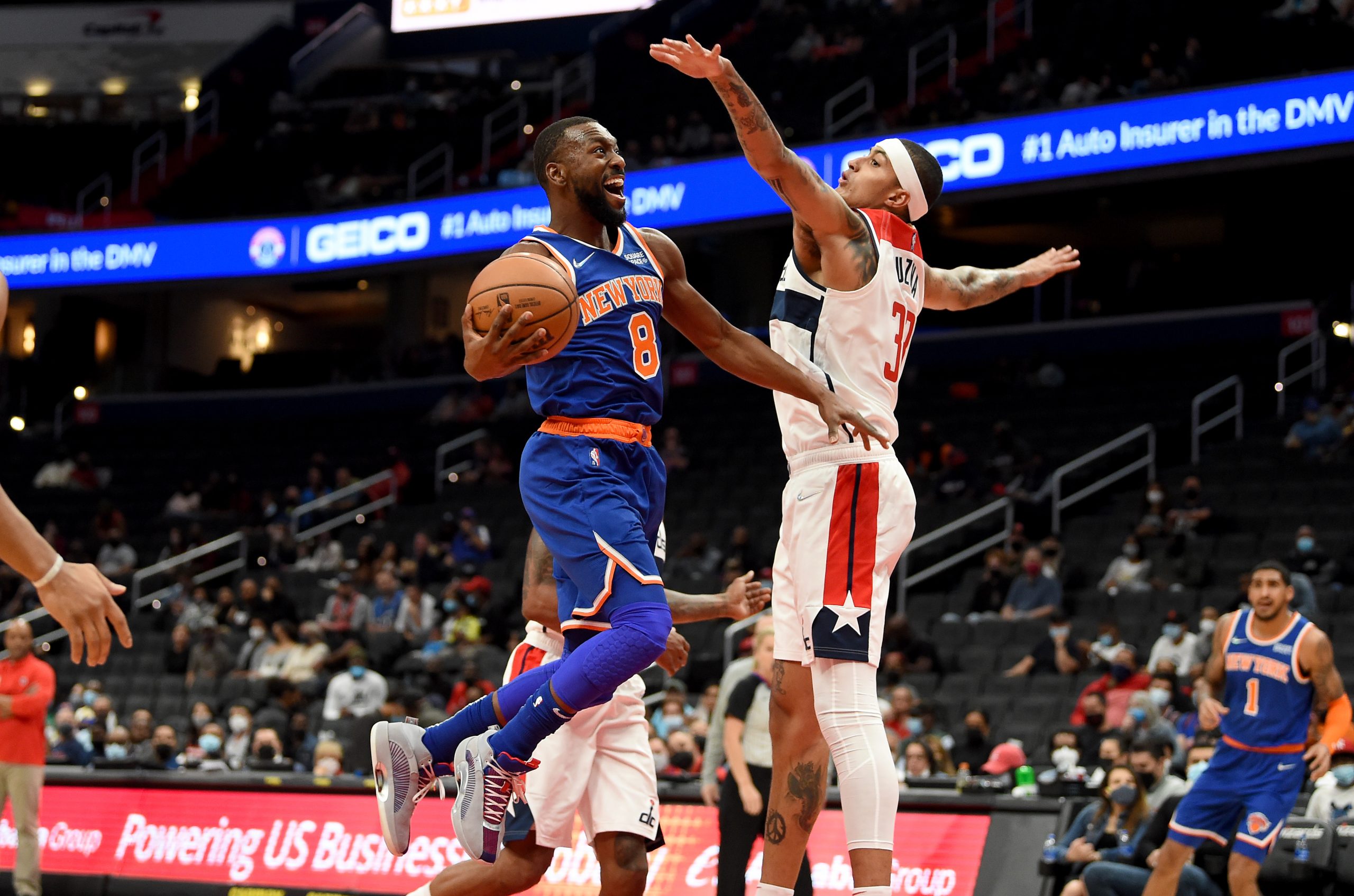 Mitchell Robinson will have a breakout season and win DPOY.
Jared Ebanks, Editorial Intern
The Knicks' resurgence last season came without the play of center Mitchell Robinson, who was limited to just 31 games. Over the offseason, the 7-footer has said that he's added 20 pounds to his lean frame, now weighing in at 280 lbs. If that's the case, the added bulk and already 7'4 foot long wingspan will have The Mecca calling for DPOY honors for their center.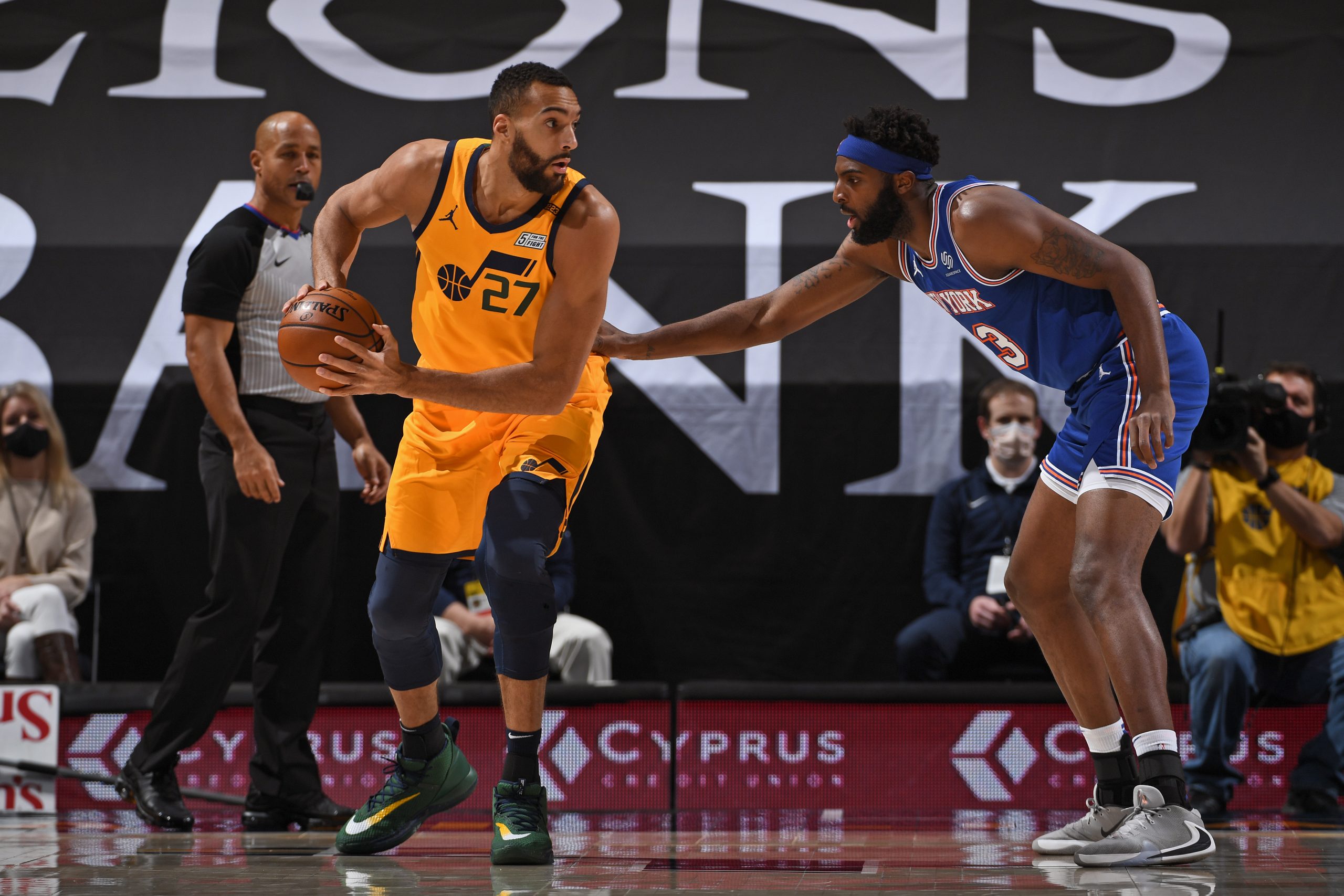 The Los Angeles Lakers will secure a spot in the NBA Finals.
Saheem Anthony, SLAM Intern
With LeBron James, Russell Westbrook, Carmelo Anthony and Anthony Davis, plus a few other important pieces, the Lakers will definitely show the world that age is simply just a number. Preseason records are one thing, but once this stacked roster finds their rhythm, they are going to make a historic run. If you know, you know.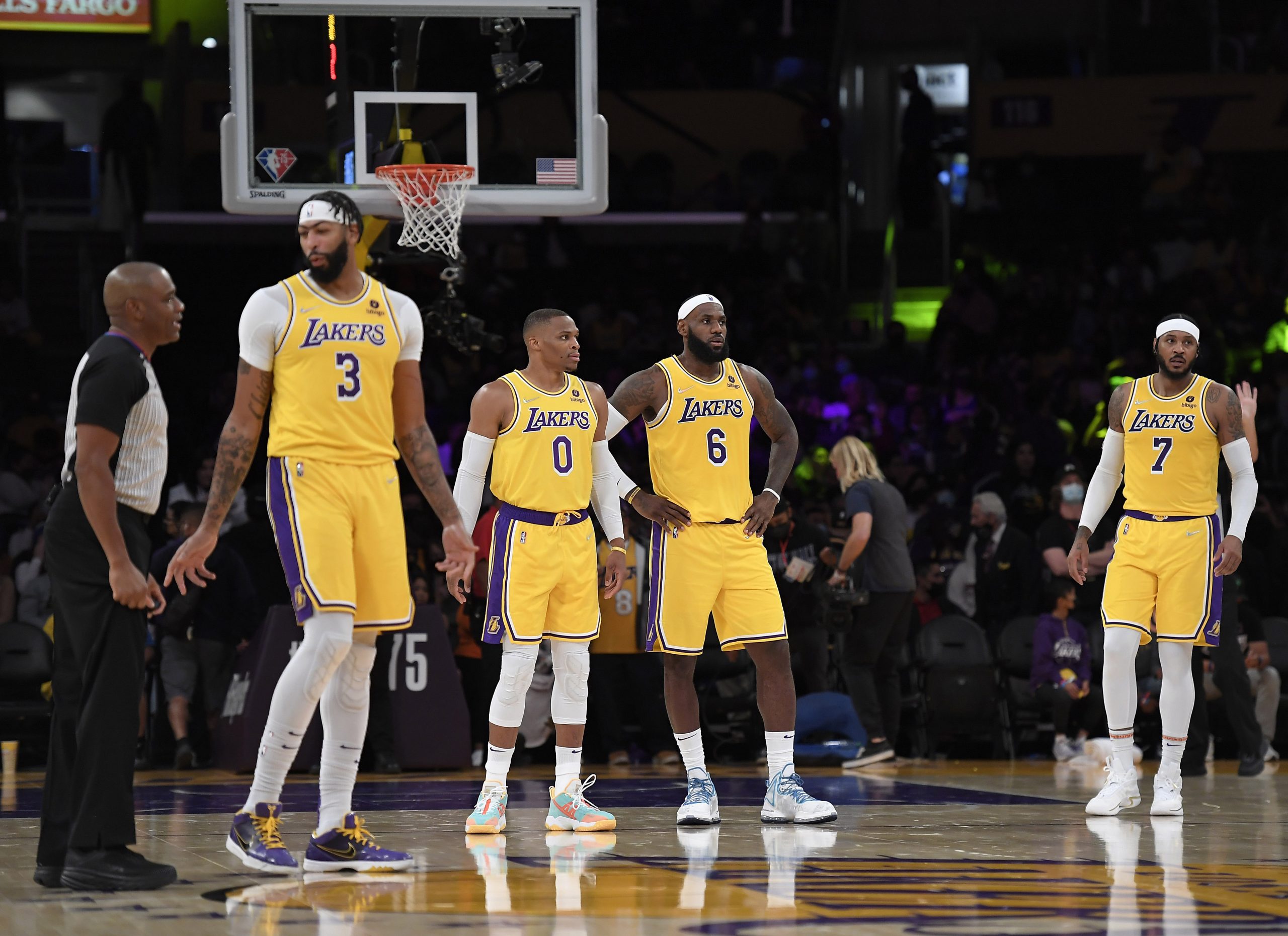 ---
Photos via Getty Images.
The post SLAM's 2021-2022 NBA Preview: Bold Takes For the Upcoming Season appeared first on SLAM.